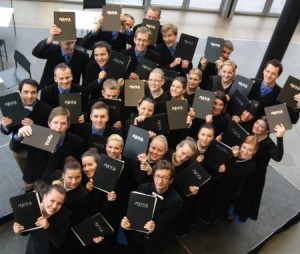 Youth choir Maska, led by its conductor Janis Ozols had gained a sensational victory at the IV International Harald Andersen Chamber Choir Competition in Helsinki (Finland). Outperforming and surpassing many professional choirs Maska had won not only the first prize, but also obtained the jury special prize for the best interpretation of the compulsory piece.
Conductor of Latvian Radio Choir Kaspars Putnins, who himself had been a member of the jury at the Harald Andersen Chamber Choir competition, believes this contest to be one of the biggest challenges for any choir, as in contrast to, for instance, the European Choral Grand Prix, here even professional musicians may take part. Moreover, the chance to participate in the contest is determined by a strict jury selection, where choir records, as well as previous success in international competitions are taken into account.
The artistic director of choir Maska Janis Ozols considers this victory to be the choir`s greatest accomplishment, as well as the peak of his own professional career so far. 'For an amateur choir to win such a competition is really quite an event, because rarely would we have the chance to compete against choirs of such high quality. I am also very happy that in this event, besides us, Latvia was represented by two other great choirs – 'Rāte' and Swedbank choir.'
The chairman of the jury – Jonathan Rathbone acknowledged that true musicality and emotion was what distinguished choir Maska from others in the competition, while the interpretation of the compulsory piece made it possible to evaluate the brilliant technical skills of the choir and its conductor.
This year there were twelve choirs competing for victory and the prize of 15 000 Euro. Nine countries were represented in the competition: Sweden, Denmark, Finland, Germany, Estonia, Latvia, Indonesia, Philippines and Colombia. Previously no prize had ever been won by a Latvian choir in the nine years history of the competition.
Babite youth choir Maska was founded in 2000. Maska won the Grand Prix at the 'Europe and its Songs' competition in Barcelona (Spain) in 2011, two gold diplomas at the Seghizzi Choir Competition in Gorizia (Italy) in 2010, and two gold diplomas at the Venezia in Musica competition in Venice (Italy) in 2008.