This September 15 years will turn since youth choir "Maska" was established. The anniversary season will open with a concert on 18th September at the Great Hall of the University of Latvia, and continue with a release of a Christmas CD and concert at the Riga Dome Cathedral on 20th December, as well as a concert on 1st April, 2016.

At the concert on 18th September you will hear the most significant compositions the choir has performed during 15 years of its existence, highlighting the development, most significant events, brightest emotions and victories of the time. The choir will perform pieces specially composed for them as well as compositions of Latvian and foreign composers, such as Vincent Clarke, Perttu Haapanen, James MacMillan, Jāzeps Mediņš, Jāzeps Vītols, Juris Vaivods, Pēteris Vasks, Renāte Stivriņa, Rihards Zaļupe, Ēriks Ešenvalds, Reinis Sējāns, Andris Sējāns, Jānis Šipkēvics (Shipsi) and conductor of the choir – Jānis Ozols.
An essential part of the concert will be compositions written by Laura Jēkabsone, who is choir-master of "Maska" and also leader of the vocal group "Latvian Voices".  Among the pieces composed for the choir, there will also be a world premiere of a new piece composed for the choir's anniversary concert.
The concert's special guest will be the instrumental group "Xylem Trio" that choir  "Maska" has collaborated for many years with. It consists of percussionist Rihards Zaļupe and brothers Oskars and Raimonds Petrauskis playing saxophone and piano.
Youth choir "Maska" was founded in 2000 by its conductor Jānis Ozols. They have gained many achievements at international competitions and they are one of the best choirs in Latvia, also well recognized abroad. The choir is unique by its ability to perform not only in the frame of classical music, but also introducing creative innovations making choir music more attractive to every listener. The choir professionally performs both Latvian and foreign music from choir classics to contemporary music, as well as pop/folk/ethno compositions, often surprising the audience with ingenious performance solutions.
 Tickets available at "Biļešu Paradīze" box offices and  www.bilesuparadize.lv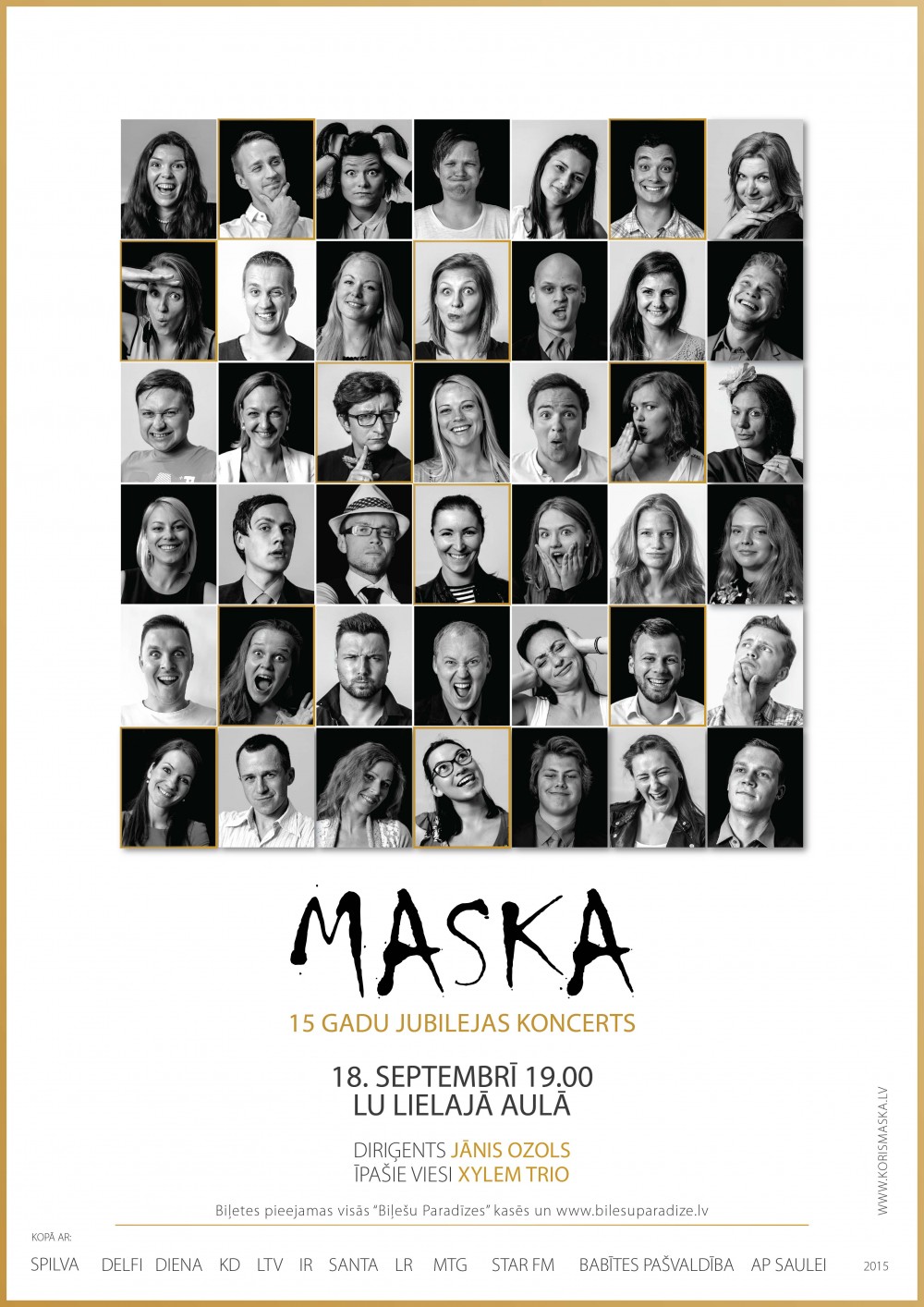 ---