Celebrating the year's brightest holiday, Mixed choir MASKA and its conductor Jānis OZOLS invites everyone to concert ZieMASKAsvētki (in English – ChristMASKAs) that will take place on 20th of December at 18:00 in Riga New St. Gertrude church. The concert will bring the audience a beautiful combination of instrumental and vocal sounds that shall create new and unheard-of musical nuances, which will definitely create a warm feeling right before the holiday.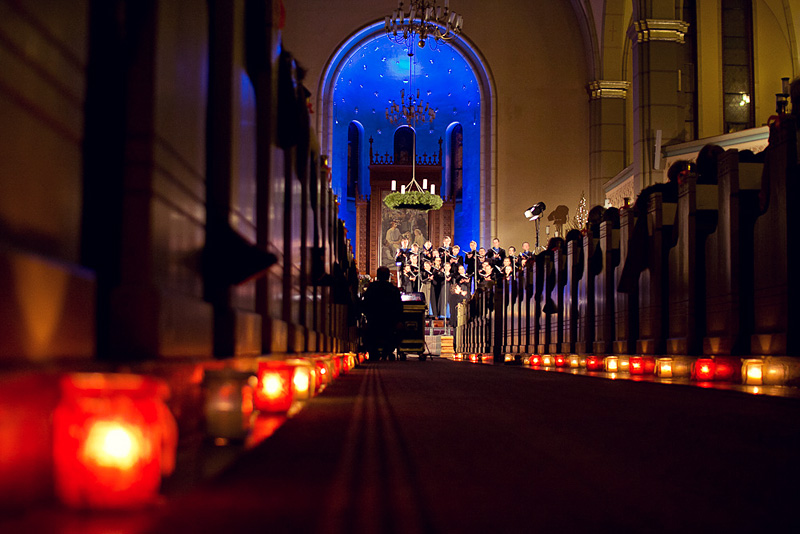 In this year's concert choir MASKA will be accompanied by young guitar master Gints SMUKAIS, who is playing his guitar in the style of finger percussion guitar play that expands the sound of a single instrument into polyphonic sound.
Gints' guitar play will be heard in several solo compositions as well as together with the choir in the new masterpiece written specially for choir MASKA by beloved Laura JĒKABSONE /Latvian Voices/ meant for a mixed choir, guitar and soloists – Xmas Medley. The composer describes the upcoming first performance as follows: It will be like a musical trip around the world in Santa's sleigh, visiting France, Ukraine, Venezuela, Israel, South Africa, England, eventually coming back to Latvia, having collected the most beautiful solstice songs from all the nations.
Also a very special moment will be the first performance of a new composition for mixed choir and soloists "Doma iet…" written by SHIPSI (Jānis ŠIPKĒVICS) /Instrumenti/. This a capella piece is also written specially for choir MASKA with lyrics by one of greatest Latvian poets – Rainis. Jānis Šipkēvics is known not only for his participation in group "Instrumenti" and a performance of popular music, but also for the fact that his musical journey started by getting a degree in academic music and conducting, which has always had a place in his heart. A combination of all his experiences can be felt in the new composition.
The concert program also includes compositions of world's masters of choral music, as well as well-known and loved local composers, including Andris SĒJĀNS, Kristaps Šoriņš and Laura JĒKABSONE.
Tickets are available in all "Biļešu Paradīze" sales points and www.bilesuparadize.lv
See you in ChristMASKAs!
---