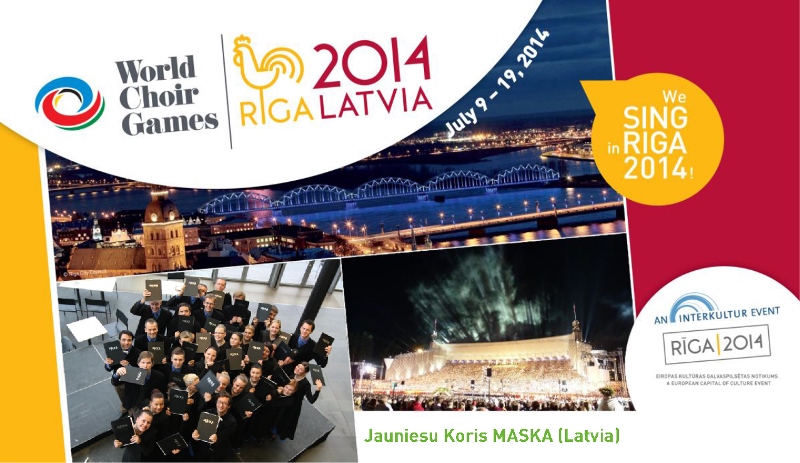 This year the 8th World Choir Games take place in Riga, which is European Capital of Culture in 2014. Youth Choir MASKA will participate in these Games that will take place from 9th till 19th of July. In total 460 choirs from 73 countries will be competing in different categories and participating in several concerts.
Youth Choir MASKA is looking forward to showing our best performance in two categories – Mixed Choirs Category (C9) that will take place on 11th of July at 11:45 in the Great Guild and Folklore Category (C28) that will take place on 18th of July at 19:00 in Riga Stradiņš University Great Hall. There is no entrance fee, so everyone who is interested can join see the contest.
2013 was the year of great Latvian Song Celebration. Choir Wars are an important part of the Celebration, where MASKA obtained the 1st place together with a special prize from Riga2014 – invitation to participate in the Champions' Category in the 8th World Choir Games.
One of the 8th World Choir Games will be Sacred Music concert that will take place in the Old St. Gertrude Church. The best Latvian choirs will be participating in this concert – State Academic Choir "Latvija", choirs "Sõla", "Balsis", "Kamēr…" and Youth Choir MASKA. We are really proud to have been invited to participate in this concert together with the best Latvian choirs.