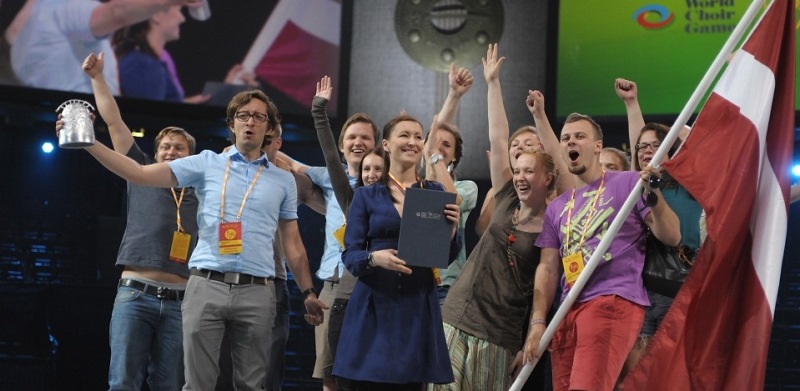 Foto:Kaspars Garda  
8th World Choir Games took place from 9th till 19th of July in Riga. Also Youth Choir MASKA participated in these games, taking part in two competition categories. In total 460 choirs from all around the world were competing for the prizes.
At first MASKA had the chance to participate in Mixed Choirs Category (C9), where MASKA received a Gold Medal, took honorable 2nd place in the Category and got the best-ever result out of any Latvian choirs that had participated in World Choir games – 96.88 points.
A week later MASKA participated in the Folklore Category (C28), where we won and were named Champions of 8th World Choir Games. We also received a Gold Medal and got 92.38 points. Once again it was proven that Latvians are able to show their folk songs in such manner that the audience from any place in the world could feel it and understand it.
We express our gratitude to Riga2014 who were the ones that presented us the opportunity to participate in these Games. Great thanks also go out to the organizers of the event, because they made it possible to see the choirs and music from so many different places here in Riga.
Of course the biggest thank you goes to our supporters, fans, friends and families. To everyone who believed in us and supported us – THANK YOU!

---