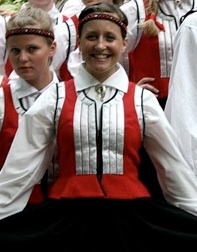 On the Labor day – May 1 "Maska" took part in Tukums region choir competition in order to take a step closer to the Riga 810th birthday and the nationwide Latvian Song and Dance Festival in 2013. Three women choirs and eight mixed choirs from Tukums, Kandava, Jaunpils, as well as from Babite district and Jurmala participated in the competition. Chief conductors Romāns Vanags, Ivars Cinkuss and Ārijs Šķepasts represented the jury.
Choir "Maska" performed very well, gaining the highest score of the jury's assessment – 46 out of 50 points and recieved special recognition from the chief conductors, thus "Maska" represented itself as the best mixed choir in the competition. The performance of Tukums teachers choir "Vanema", which also is led by Jānis Ozols was rated high as well.
The work does not end with this achievement as "Maska" will actively prepare for other events including the upcoming small towns and rural choir competition – festival in Mazsalaca which will take place on June 11.